Helicopter Lumberer
The lumber yard delivered our wood for free, but before they did we wondered, "Should we go and inspect every piece of wood and pick up the lumber?" Our answer was yes…until we decided no.  Because we'd have the option to return pieces of wood, we felt like it wasn't necessary to inspect everything. As the lumber yard clerk assured me, "We don't sell wood to have it returned." That being said–horror lumber delivery stories are out there.
Figuring Out the Count
I used our Tiny Tack House plans to make adjustments and estimate all of the lumber that we'd need. Their plans list the amount of boards and sizes that you'd need, but we have changed a few things and our trailer/floor will be a different size (22 x 8.5 ft), so it was a little work to figure everything out. Obviously, it's smart to add a few boards on to your total estimate, anticipating miscalculations and warped wood. Lumber yards could lend you a hand figuring everything out, too.
For our planned 22 x 8.5 ft trailer and house, our final lumber count was the following:
Construction phases and wood original estimates (these changed):
Zip System Contemplation

We considered using the Zip System for our wall and roof sheathing; it would have been $330 more up front. Although more expensive, people claim the system actually saves you money and time from wrapping your house. We will spend $150 on Grace: Ice and Shield roofing underlayment and $120 on our house-wrap. This means we'll only save around $60, but yes, it will take more work to install the underlayment and house-wrap; however, we'll ultimately have better roof protection; the Zip System claims to eliminate felt paper whereas we'll have a strong sticky underlayment.

Toxicity, Zips, and Regrets
Although Oriented Strand Board (OSB/Zip Panels) are generally cheaper and structurally as durable as plywood, they have more glues that off-gas, so more formaldehyde would be seeping into your house.  This was the main reason we chose the less but still "formaldehydy" plywood. Although plywood is not perfect, it does handle moisture a lot better than OSB. Tiny House Builder Ryan Mitchell chose the Zip System for his house, so check out his reasoning here. Upon further discovery, I have found non-formaldehyde plywood by Purebond and other companies. Thankfully, less toxicity is becoming more popular.
Save to Splurge
Instead of buying 4x4s (expensive), we will be sistering 2x4s for stud uprights (putting two together with screws) and creating glulams for the subfloor's perimeter (two 2x4s and a strip of plywood glued and screwed together). This saved us $180. We used this money to splurge and instead of using 2x4s for the loft beams, we'll have beautiful 4×4 cedar beams ($250 more). What will your save to splurge ratio be?
Doug from Liverpool Lumber

The delivery of our lumber was an emotional stew; throw in excitement, nervousness, anticipation, and disbelief and you get these tiny house builders. Our house was truly in motion! Was our preparation enough? Is everything figured out? It doesn't matter–time to build.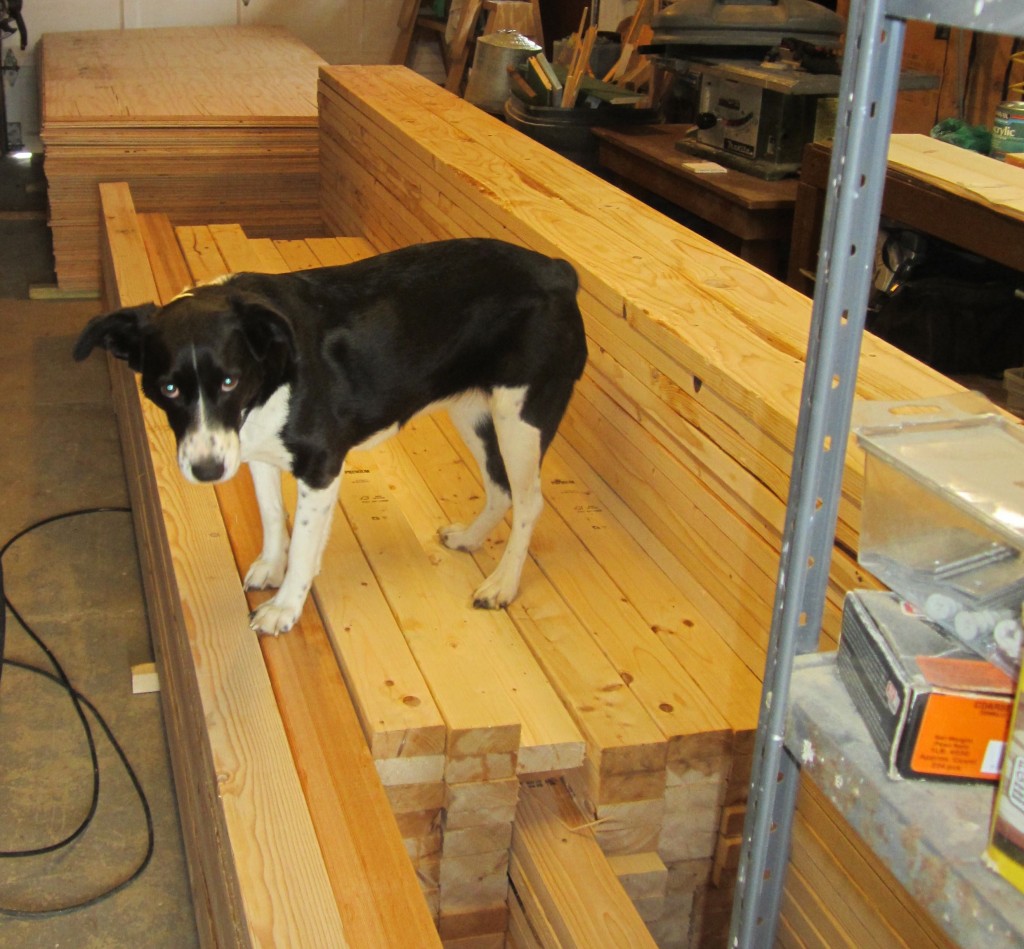 Reflections, Hindsight, and Alterations:
Thank the tiny house gods I added ten extra 2x4x8s and a few 2x4x12s. We used them all and miss-cut a few.
Quite a few warped boards, but we found a place for them.
Had to buy another cedar beam for $78. Ouch.